Mexican food is my happy place. In fact, I have yet to try a Mexican dish that I didn't like, and the good things are that many Mexican food recipes can be petty easily adjusted to suit my diet plan.

This is great because I eat it ALL.THE.TIME. One of my favorite Mexican foods is enchiladas…cheese enchiladas, chicken enchiladas, shredded beef enchiladas…you name it.
I ADORE them. But when making them at home, I sometimes have an issue with rolling up those corn tortillas without having them break apart. I've tried a few tricks, and I can make it work, but it's still a pain. So I decided to try doing some chicken enchiladas in casserole form and the result was AMAZING. Seriously, amigos.
This dish is so good. I actually just made these for dinner last night, and couldn't wait to post them here on the blog for you to try!
Feel free to top them with any extras you see fit…jalapeños, sour cream, diced red onions…whatever floats your boat.
This Chicken Enchilada Casserole was loved by the whole family and I highly recommend you get in the kitchen and make this bambino ASAP.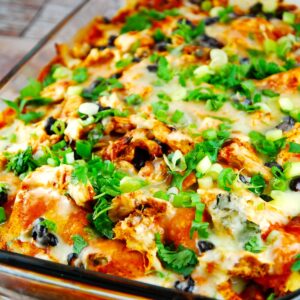 Chicken Enchilada Casserole Recipe
These stacked chicken enchiladas is a super easy recipe that is oh so delicious! Family dinner is sure to be a hit with this dish.
Ingredients
12

corn tortillas

-

halved

1 ½

lbs

chicken breast

2

15oz

cans of black beans

-

drained and rinsed

1

cup

corn

3

cups

enchilada sauce

2

cups

reduced fat Monterey Jack cheese

-

shredded

6

green onions

-

chopped

⅓

cup

cilantro

-

chopped

2

tsp

garlic powder

2

tsp

chili powder

2

tsp

ground cumin

1

tsp

paprika

1

tsp

salt

½

tsp

black pepper
Instructions
Preheat oven to 400 degrees.Fill a baking dish with 1/2 cup water.

In a small bowl, mix together the garlic powder, chili powder, cumin, paprika, salt and pepper. Sprinkle generously over both sides of the chicken breasts, then place them in the baking dish.

Roast chicken in oven for about 20-25 minutes, or until the chicken breasts are cooked through. Remove from oven, transfer chicken to a large bowl, and shred using two forks. Set aside. Reduce oven heat to 375.

In a medium sized bowl, mix together the corn and black beans.

To prepare the casserole, start by misting a 9 x 13 casserole dish with nonfat cooking spray or an olive oil mister.

Add about 1/2 cup of enchilada sauce to the bottom of the casserole dish. Spread evenly with the back of a spoon. Top with a layer of 8 tortilla halves, so that the entire dish is covered.

Now sprinkle about 1/3 of the black bean corn mixture on top of the tortillas. Follow with about 1 cup of shredded chicken, and then about 1/3 of the cheese. Top with a sprinkle of green onions and cilantro.

For the second layer, start with 8 tortilla halves, then about 1 cup of enchilada sauce, then the black beans and corn, then the chicken, then these cheese, then green onions and cilantro.

For the third layer, start with 8 tortilla halves, then the remainder of black beans and corn, then the remainder of the chicken, then the remainder of enchilada sauce, but reserve the cheese, cilantro and green onions.

Cover and place in oven for about 20 minutes. Remove pan and take off the aluminum foil. Sprinkle the top of the enchiladas evenly with the remaining cheese, then return to the oven (uncovered) and bake for 10 minutes or until the cheese is melted. 

Remove pan, and top with the remaining green onions and cilantro. Let cool for about 5-10 minutes, then cut into 8 equal pieces.
Notes
The entire recipe makes 8 servings
The serving size is 1/8th of the casserole
Nutrition
Calories:
350
kcal
(18%)
Carbohydrates:
30
g
(10%)
Protein:
40
g
(80%)
Fat:
9
g
(14%)
Saturated Fat:
3.5
g
(22%)
Fiber:
6.5
g
(27%)
Sugar:
1
g
(1%)