If you are all turkey-ed out after the Thanksgiving Day feast, then today's recipe is for you! I put together this Roasted Cranberry Balsamic Chicken Recipe as a tasty and festive alternative to turkey for holiday dinners.
Turkey, mashed potatoes and gravy, green bean casserole, and pumpkin pie. When you hear that, you think of Thanksgiving. It's just traditional, that's what you have for Thanksgiving. Sure, you swap out a few other family favorites, or maybe your family has that one special dish that you just HAVE to have every year (anyone for some red, white, and blue Jell-O salad?), but for the most part, everyone has the same thing on Thanksgiving.
The trouble with this is really that I'm not a big fan of turkey. But at least I'm in good company, my family doesn't really care for turkey either. But we serve it every year because…well…tradition. However, this year, I thought I'd try something new and different. Instead of the traditional turkey that's been smothered in gravy, I thought I'd try chicken that's been doused in cranberries.
Cranberries are usually on sale this time of year and you get beautiful plump berries at a great price. They're perfect to make a homemade cranberry chutney or this Cranberry Balsamic Chicken.
Cranberries are high in antioxidants and are heart-healthy in addition to adding a tangy sweetness to this fabulous chicken. However, if you can't find fresh cranberries, you can use thawed cranberries just as easily.
It does take a little forethought (hello, meal planning!) because it should be marinated for at least 1-2 hours before roasting the chicken. However, if you know you're going to have it, it's easy to whisk together the marinade and chicken and refrigerate it overnight.
The nice thing about roasting the chicken with the marinade (including the cranberries) is that you don't have to worry about chopping the cranberries. Throughout the roasting process, the cranberries will burst and add their distinctive sweet-tart flavor to the chicken.
You'll be blown away by the final dish. Not only does it look like you spent loads of time slaving away, but it tastes amazing! (And no one has to know you whipped it together in 10 minutes.)
This is one of those great dishes that you don't have to worry about plating, just put the whole casserole dish on the table because it looks great with the chicken, dark balsamic sauce, and bright cranberries.
You can switch out the chicken thighs for boneless, skinless chicken breast for fewer points, but I wouldn't recommend it. The thighs have more dark meat and a richer flavor that works well with the balsamic and cranberries. I think that juicy and rich flavor is definitely worth an extra couple of points.
Give this chicken a try this holiday season. You can test it out, as I did, and serve it right next to the traditional turkey and gravy. I bet there won't be any left when you get done with the meal. It has juicy chicken in addition to the sweet, salty, and a little tangy.
It's the perfect combination of the holiday flavors that you love. In fact, I bet it won't just be your new holiday favorite, you'll probably want to have this throughout the entire year.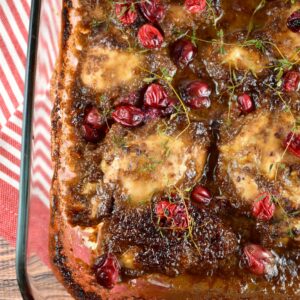 Roasted Cranberry Balsamic Chicken Recipe
A delicious holiday chicken recipe that is both sweet and savory, and all cooked in one pan. It's simple to put together, but delivers tender and juicy chicken that looks like you've worked way too hard on it.
Ingredients
2

lbs

chicken thighs

-

(skinless, boneless)

1

tbsp

olive oil

¾

cup

fresh cranberries

-

(divided)

2

tbsp

reduced sodium soy sauce

2

tbsp

maple syrup

¼

cup

balsamic vinegar

3

cloves of garlic

-

(minced)

handful of fresh thyme sprigs

Salt and pepper to taste
Instructions
Place chicken in a large roasting pan or baking dish.

In a small bowl, whisk together olive oil, soy sauce, maple syrup, balsamic vinegar, garlic, salt, pepper, and 1/4 cup of the cranberries. Pour over chicken. Cover and place in refrigerator to marinate for 1-2 hours, or overnight.

Preheat oven to 375 degrees. Add remaining cranberries to the dish. Spread around evenly. Top with fresh thyme sprigs.

Roast in the oven for about 25-28 minutes, or until chicken is cooked through, basting with the pan juices every 5-8 minutes.

Then turn oven up to broil. Broil for another 2-4 minutes. Top with extra fresh thyme before serving.
Notes
The entire recipe makes 6 servings
The serving size is about 1-2 thighs with sauce
Nutrition
Calories:
224
kcal
(11%)
Carbohydrates:
6.3
g
(2%)
Protein:
27
g
(54%)
Fat:
8
g
(12%)
Saturated Fat:
1.5
g
(9%)
Cholesterol:
127
mg
(42%)
Sodium:
334
mg
(15%)
Potassium:
55
mg
(2%)
Fiber:
0.5
g
(2%)
Sugar:
4
g
(4%)
Calcium:
350
mg
(35%)
Iron:
0.4
mg
(2%)