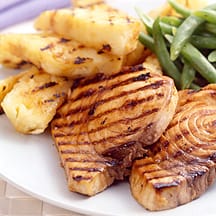 It's a Labor day Weekend! Why not throw a fabulous end-of-summer party with minimal effort and minimal calories? Try this super delicious Labor Day Recipe that's great for a holiday barbecue or anytime, for that matter! Homemade barbecue, creamy side salads and rich desserts don't have to add on the pounds this Labor Day – you can serve your guests healthy recipes with very little effort at all. This tangy and sweet grilled halibut recipe is a perfect dish to serve this Labor Day Weekend. It's healthy, delicious and clocks in at just 4 Weight Watchers Points per serving.
Pineapple Grilled Halibut Recipe
Ingredients:
1 1/4 pound halibut fillet(s), four 6 oz fillets cut 1/2-inch-thick each
1/2 medium pineapple, cut lengthwise into 1/2-inch-thick spears (about 2 cups)
1 spray nonfat cooking spray
1 Tbsp lime zest
2 Tbsp unpacked light brown sugar, divided
2 Tbsp fresh lime juice
1 tsp table salt
2 Tbsp ginger root, fresh, grated, divided
1/4 tsp cayenne pepper
Directions:
Preheat grill and coat with nonfat cooking spray. Place zest, lime juice, 1 tablespoon of brown sugar, 1 tablespoon of ginger, salt and cayenne pepper in a resealable plastic bag; seal bag and shake to combine. Add fish to bag. Reseal, shake again, place bag on a plate and allow to marinate at room temperature for 20 minutes, turning once. Meanwhile, in a second plastic bag, place remaining tablespoon each of brown sugar and ginger, and pineapple. Seal bag and allow to marinate for 5 minutes; remove pineapple and add resulting juices to fish bag. Grill pineapple until heated through, turning once, about 8 minutes. Remove to a serving platter; cover with foil to keep warm. Cook fish over direct heat, brushing with marinade, until cooked through, about 3 to 4 minutes per side. Place on serving platter with pineapple. Serves 4.
Serving Size = 1 fillet plus 1/2 cup of pineapple
4 Weight Watchers Points per serving