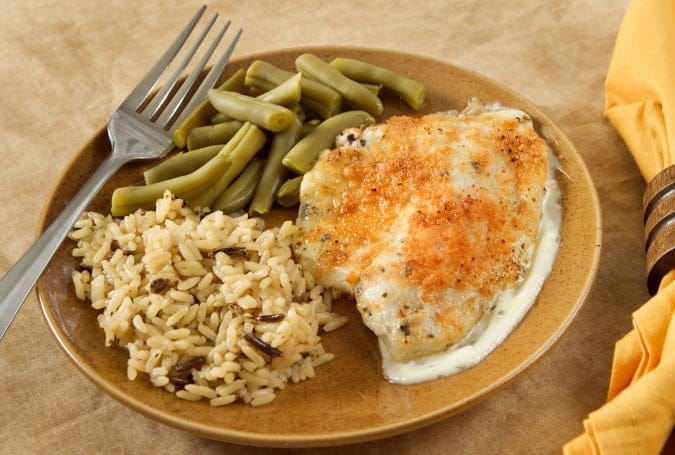 I recently had a really delicious broiled tilapia. I'm pretty picky about my seafood, I don't like it to be too fishy, so I like the more mild fish, like tilapia. The problem that I run into is that the milder fish is kind of bland. So, how do you spice it up without completely destroying the fish itself? I've had it served with a red sauce before, and it wasn't the finest I've ever had. Tilapia is so mild that serving it with a tomato based sauce just completely overwhelms the fish itself. This tilapia is lightly broiled, which makes it quick and easy. It's topped with a parmesan herb mixture once it's mostly cooked and then broiled until the topping is brown. It's quick and easy, the fish doesn't get over done. It stays moist and has a light flavor that is well seasoned without being overwhelming. It's going to be one of my new favorite ways to make tilapia.
A perfect way to season a mild fish. The basil, onion and lemon juice add a little flavor without overwhelming the tilapia. The parmesan tops it off.
Ingredients
½ cup parmesan cheese
¼ cup butter, softened
3 Tbsp mayonnaise
2 Tbsp lemon juice
¼ tsp dried basil
¼ tsp black pepper
1/8 tsp onion powder
1/8 tsp celery salt
2 lbs tilapia fillets
Instructions
Preheat the oven on the broil setting. Line a baking pan with aluminum foil and set aside.
In a bowl, combine the cheese, butter, mayonnaise, lemon juice, basil, pepper, onion powder and celery salt.
Mix well and set aside.
Place the tilapia on the prepared pan and broil for 2 – 3 minutes.
Flip the fillets over and broil for another 2 – 3 minutes.
Cover the filets with the parmesan mixture.
Return to the oven and broil for an additional 2 minutes, or until the topping is brown and the fish flakes easily.
Serve hot.
Preparation time: 5 minute(s)
Cooking time: 9 minute(s)
Diet tags: Reduced carbohydrate, High protein, Gluten free
Number of servings (yield): 8
Culinary tradition: USA (General)
Calories: 224
Fat: 12.8
Protein: 25.4
Entire recipe makes 8 servings
Serving size is about 4 oz tilapia.
Each serving = 6 Smart Points/6 Points
PER SERVING: 224 calories; 12.8g fat; 5.2g saturated fat; .8g carbohydrates; .5g sugar; 25.4g protein; .1g fiber