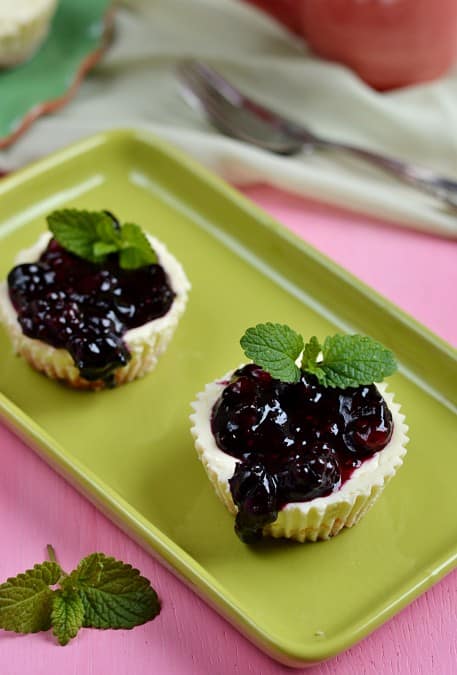 Cheesecake is a classic in our house. It's one of my husband's favorite desserts. In fact, we had cheesecake at our wedding. It's not something that I make all that often, however, because the two of us have to eat the whole thing. While I don't mind eating the whole thing, it's not good for either of us. The answer is these delicious mini cheesecakes. I use foil muffin cups and don't even bother with a muffin pan. Then, we keep a couple out for dessert and freeze the rest. Simple defrost them in the fridge (or pop them in the microwave for a few seconds) and add your favorite topping. While these ones have blueberry topping, you can have plain cheesecake, blueberry, strawberry, raspberry, caramel apple…the list is endless. If you don't want to make all of that topping, just make the cheesecakes and then top with a dollop of your favorite jam before you eat it. These are really easy to make and really delicious. The individual portion sizes makes it easy to get enough to satisfy without going overboard.
This classic cheesecake is made easy by being made mini. The blueberry topping is delicious for these cheesecakes, but since they're individual, everyone can have a different topping! They're also easy to freeze for a perfectly portioned dessert for later.
Ingredients
1 cup graham cracker crumbs
2 Tbsp sugar
3 Tbsp butter, melted
Cheesecake:
2 pkg (8 oz each) fat free cream cheese
1/2 cup sugar
1 tsp vanilla extract
2 large eggs, lightly beaten
Topping:
2 cups fresh or frozen blueberries
1/4 cup water
1 Tbsp cornstarch
Instructions
Preheat the oven to 350 degrees F and line a muffin tin with papers.
In a small bowl, mix together the cracker crumbs, sugar and butter.
Evenly divide the crust mixture into the muffin papers (about 1 heaping Tbsp each).
Press the crumbs firmly down into the bottom of the papers.
In a large bowl, combine the cream cheese and sugar. Beat until smooth.
Add the vanilla and the eggs. On low speed, beat until the mixture is combined.
Pour the cheesecake mixture into the muffin papers.
Bake for 15 – 18 minutes, or until the centers are set up.
Cool for 30 minutes.
While the cheesecakes are cooling, prepare the topping.
In a small saucepan, heat the blueberries until they begin to make a sauce.
Bring the blueberries to a simmer and then mix together the water and cornstarch.
Whisk in the cornstarch mixture and stir until thickened.
Spoon the topping over the cheesecakes.
Serve immediately, refrigerate or freeze.
Preparation time: 30 minute(s)
Cooking time: 15 minute(s)
Diet type: Vegetarian
Diet tags: Low calorie, Reduced fat
Number of servings (yield): 12
Culinary tradition: USA (General)
Calories: 153
Fat: 5
Protein: 7
Entire recipe makes 12 servings
Serving size is about 1 mini cheesecake
Each serving = 6 Smart Points/4 Points
PER SERVING: 153 calories; 5g fat; 2.6g saturated fat; 21.5g carbohydrates; 13.9g sugar; 7g protein; .9g fiber