I grew up in Pennsylvania and then moved to Southern California, which is where I live now. One of the best things that I've discovered since moving to Los Angeles is the incredible food!
Once I moved here, I learned about a whole new world of foods and flavors that I never knew existed. I can honestly say, I've never been happier.
I've got plenty of favorite flavors and recipes (who doesn't?), but Middle Eastern foods are ones that I almost always just fall in love with.
Recently, I got to eat at a Turkish restaurant and I had an incredible salad that I just had to try to make once I got home. It's the super simple, but incredible flavorful and delicious Chickpea and Sumac Salad.
The key to this fabulous salad is the sumac. Specifically, you need to work the sumac into the onions with your hands. It helps to tone the onions down, taking off any of the bitter edge but leaving them a little sweet and a little tart – in other words, perfect.
Added to the sumac and onions are tender garbanzo beans. Garbanzo beans are a staple in many Middle Eastern diets. They are a legume that is high in fiber and nutrients and has been eaten for centuries.
In fact, garbanzo beans, or chickpeas, were even mentioned thousands of years ago in Charlemagne's time! In the US, we typically eat the light-colored Kabuli variety of garbanzo beans. There is also a darker colored Desi variety that has just as many nutrients and more antioxidants. The Desi variety account for about 75% of the world's production of chickpeas.
In addition to the garbanzo beans, you combine tangy lemon juice and bright mint and parsley to flavor the salad. It really packs a punch of flavor and is loaded with fiber and protein.
It's a great source of vitamins and minerals and is incredibly satisfying for barely any points! The fiber found in the chickpeas is very filling and satisfying, so it really works great for me to fill up on or to have as a snack.
It's a great option for you if you're gluten free, dairy free or vegan. It's so versatile that it's a great dish to serve at a party or bring to a potluck. Everyone can enjoy this flavorful and healthy dish- and it's so easy to make! And it might be vegan, but if you're like us and love eating meat, this salad makes a great side dish. I love to serve it with my Moroccan Beef and Lamb Meatballs. The flavors really complement each other.
WHAT IS SUMAC?
You might really be wondering if you've never used sumac in cooking. But I promise, I'm not talking about the poisonous one you want to avoid while you're camping. Wild sumac (the one that gives you a nasty rash) is related to the spice sumac, but they're not the same.
Sumac is a bush, native to the Middle East, whose deep red berries are dried and ground. It's a slightly tart spice with a tangy lemon flavor and a beautiful deep red color.
It's widely used in Middle Eastern and Mediterranean cooking in everything from marinades, dressings and dry rubs. It works best when it's sprinkled over the food immediately before serving, but also works well with grilled lamb, chicken or fish.
ALSO TRY THESE OTHER MIDDLE EASTERN RECIPES!
Arabic Fattoush Salad
Moroccan Apricot Salad Recipe
Quinoa Salad with Tahini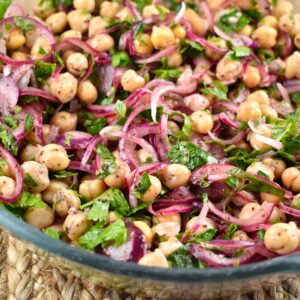 Chickpea and Sumac Salad Recipe
A fresh and boldly flavored salad with Middle Eastern roots, this tasty dish makes a wonderful side to your favorite meal. Sweet, tangy and salty, all the flavor notes are hit in this easy salad recipe.
Ingredients
2

15 oz cans

garbanzo beans

-

(drained and rinsed)

1

large

red onion

-

(very thinly sliced)

4

cloves of garlic

-

(minced)

1 ½

tbsp

ground sumac

1

tsp

paprika

1

tbsp

olive oil

1

cup

fresh parsley

-

(finely chopped)

½

cup

fresh mint

-

(finely chopped)

Juice of 1 large lemon

Salt and pepper to taste
Instructions
In a large bowl, toss together the onions, sumac, paprika, and salt. Massage onions with hands to rub the spices and salt into the onions, and let sit about 5 minutes. Drain any excess liquid from bottom of the bowl.

Add in the garbanzo beans, parsley, and mint, and toss to combine.

In a small bowl, whisk together the olive oil, lemon juice, and garlic. Pour over salad and toss to coat. Season with salt and pepper to taste.
Notes
The entire recipe makes 6 servings
The serving size is about 1 heaping cup
Nutrition
Calories:
171
kcal
(9%)
Carbohydrates:
25.5
g
(9%)
Protein:
8.1
g
(16%)
Fat:
3.5
g
(5%)
Sodium:
39
mg
(2%)
Potassium:
363
mg
(10%)
Fiber:
6.5
g
(27%)
Sugar:
1
g
(1%)
Calcium:
80
mg
(8%)
Iron:
3.1
mg
(17%)