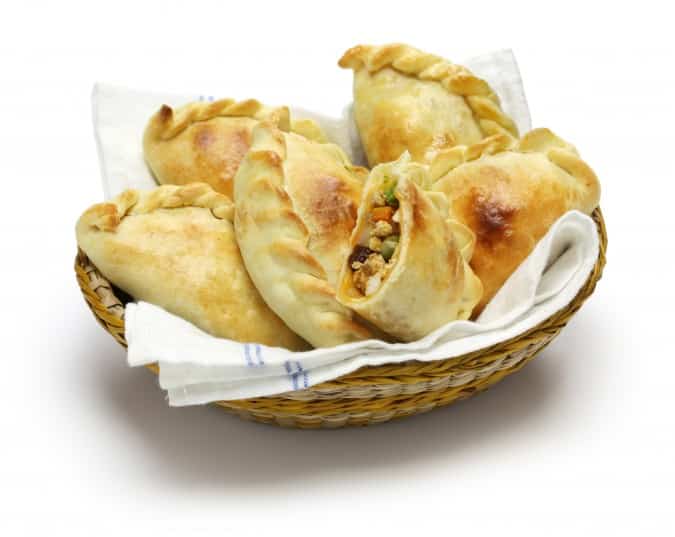 These delicious little empanadas are perfect for appetizers, snacks or even lunches. They're so easy to make with leftover chicken (or pork or turkey). Everything gets tossed into the bowl and mixed up, then put in refrigerated pie crust – how easy is that? I like to make them up when I have the leftover chicken on hand and then I can freeze them if I want and use them later. I'll also make up mini empanadas (making about 30 from one recipe instead of 12) and use them for appetizers – they're always a hit. If you'd like to do a vegetarian option, use black beans and corn in place of the chicken. They'll be just as good, but without the meat. No matter how you make them – everyone in the family will love them!
A delicious Spanish snack that is perfect for lunch, snacks or a party. They are rich and creamy and simple to make.
Ingredients
3 cups cooked chicken, shredded
8 oz Colby and Monterey Jack cheese blend, shredded
4 oz reduced fat cream cheese, softened
1/4 cup red bell pepper, chopped
1 can (4.5 oz) green chilies, diced
1 Tbsp cumin
1 1/2 tsp salt
1/2 tsp pepper
1 (14 oz) pkg refrigerated pie dough
Instructions
Preheat the oven to 400 degrees F and lightly grease a baking sheet. Set aside.
In a large bowl, combine the chicken, cheeses, chili peppers, cumin, salt and pepper. Mix until well combined.
Roll out the pie dough and cut out circles, making a total of 12 circles (reuse pie dough between the circles, but be careful not to over-handle it).
Place the pie dough circles on the prepared pan and evenly divide the chicken mixture onto the center of each circle.
Fold the dough circles in half and crimp the edges.
Bake for 15 minutes, or until golden brown.
Serve hot.
Preparation time: 15 minute(s)
Cooking time: 15 minute(s)
Number of servings (yield): 6
Culinary tradition: Spanish
Calories: 246
Fat: 13.6
Protein: 13.8
Entire recipe makes 6 servings
Serving size is about 2 empanadas
Each serving = 8 Smart Points/6 Points
PER SERVING: 246 calories; 13.6g fat; 6.2g saturated fat; 16.5g carbohydrates; 2.1g sugar; 13.8g protein; 1.7g fiber