Mmmmm…PANCAKES!!!!
I have always adored these sweet, warm, cakey little love patties. But they aren't at all diet friendly, so I rarely indulge myself in their yumminess. So when I read that Fiber One had released a new Pancake mix, I was overjoyed!!
I already adore their super high fiber cereal, and use it for so many recipes (which I SWEAR, I have been meaning to blog about), so I knew I had to give this high fiber, low calorie pancake recipe a try. I got up early this morning, so excited to make my special Weight Watchers pancakes with the help of Fiber One Pancake Mix. And Oh Em Gee…..they were SOOOOOO good!!
A little on the thin side, but nonetheless, they tasted amazing, and I am so incredibly with this fabulous find. I had three nice sized pancakes with butter and maple syrup for just 5 Weight Watchers Points. And I am stuffed.
Fiber One, I so love you. Thanks for this amazing pancake recipe.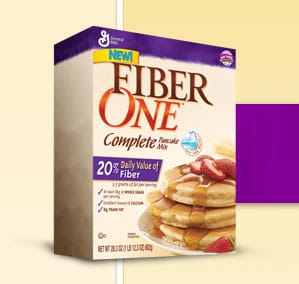 Fiber One Weight Watchers Pancake Recipe
Ingredients:
1 cup Fiber One Pancake Mix
2/3 cup cold water
Toppings:
2 Tbsp of a light butter (I used Balade Light Butter)
1/2 cup sugar free syrup (I used Maple Grove Farms Sugar Free Maple Syrup)
*I found all of these items at my local grocery store!
And for a bit of fun or variety add a few blueberries, strawberries or banana slices to pancake mix! Just remember to calculate the extra Points.
Directions:
Coat skillet or frying pan with a nonstick cooking spray. Preheat your skillet to about 375 degrees (or until water droplets bounce around).
Mix pancake mix ingredients with a wire whisk. Note that the mix will be thin. I found that its best to let the mix sit for about 5 minutes to thicken up a bit.
Pour batter into frying pan, making each pancake with just under 1/4 cup of batter, and heat on one side until bubbles break on top of pancake and edges start to dry.
Flip and let cook about 30-45 seconds or until pancake is golden brown.
Top each serving with 1 tbsp of butter and 1/4 cup of syrup. Enjoy!
Recipe makes 2 servings
Serving size = 3 pancakes
Each serving (with butter and syrup) = 5 Weight Watchers Points