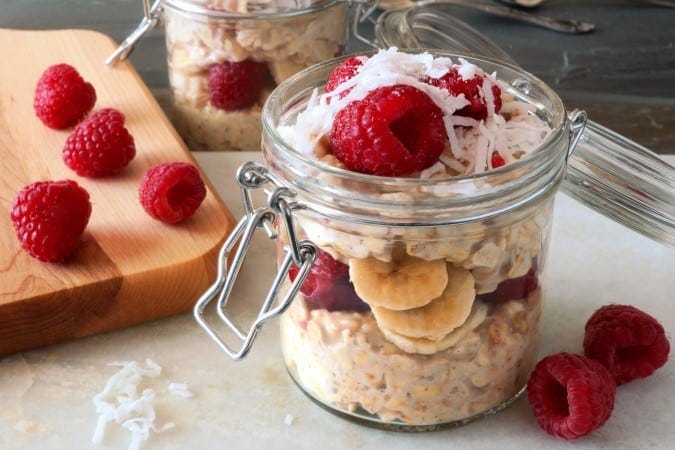 I love to have fruit in my oatmeal. It's a much better way to sweeten oatmeal without actually adding sugar. I ran across this overnight oatmeal recipe recently and just had to try it. You don't even have to cook it, there's no crockpot involved or anything. Just mix it up and stick it in the fridge. I doubled the recipe, but if you make just one portion, all you have to do is just stick the ingredients into the pint jar and shake it up. The next morning, add the fruit and eat! You can add the raspberries (or any type of fruit you'd like) the night before, or the morning you eat it. Since I added bananas, I added all my fruit right before I ate it so the bananas wouldn't be gross. I'm in love with this recipe, it's so easy and delicious! It's one that's perfect for busy nights and days, and everyone (even the kids) will love it.
These wonderful overnight oats don't require any cooking. All you have to do is put everything in a jar, mix and refrigerate. In the morning you have a tasty breakfast ready to go in an adorable jar!
Ingredients
1/2 cup old fashioned oats
2/3 cup skim milk
1/2 cup plain Greek yogurt
1 Tbsp chia seeds
1/2 tsp vanilla
1/2 cup fresh raspberries
1 medium banana
1 tsp coconut, for garnish
Instructions
In a bowl, combine the oats, milk, yogurt, chia seeds and vanilla. Mix well.
Evenly divide the oat mixture into two half pint (1 cup) jars.
Refrigerate the jars overnight, or for up to 3 days.
Slice the banana and add the banana and raspberries to the oatmeal. Mix well.
Garnish with coconut (if desired) and serve immediately. Can be served warmed or cold.
Preparation time: 5 minute(s)
Cooking time:
Diet type: Vegetarian
Number of servings (yield): 2
Culinary tradition: USA (General)
Calories: 231
Fat: 5
Protein: 11
Entire recipe makes 2 servings
Serving size is about 1 jar (1 cup)
Each serving = 8 Smart Points/6 Points
PER SERVING: 231 calories; 3.3g fat; .3g saturated fat; 37g carbohydrates; 16.2g sugar; 11g protein; 7g fiber