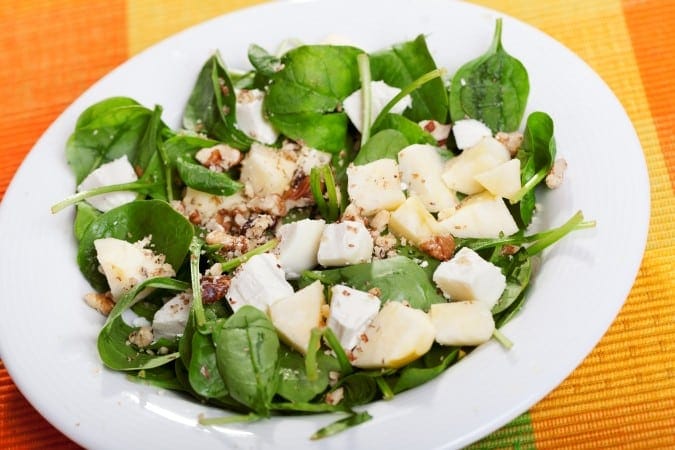 Even though I love salads, I really love salads for two reasons – they're pretty and I can pack in the goodies. I'm not someone who just serves a bag of mixed lettuce and calls it a salad. My salads have lettuce, cucumbers, mushrooms, bell peppers, tomatoes, craisins, cheese and nuts in them. They're beautiful and packed with flavor. Next to mixed baby lettuce, spinach is about my favorite green to use. Not only is it a great way to add nutrients to a smoothie, but it's a wonderful base for a salad. Since we've got lots of fresh pears right now, I thought I'd add some pear to this spinach salad. I'll be honest, goat cheese sounds great, but it can be a bit strong. If you get a more mild goat cheese, it's much better, or you can just use feta cheese. When it comes to salad, feta is typically my go to cheese, so when I make this for a quick weekday lunch, I'll probably use feta most of the time. However, if you're feeling adventurous, add blue cheese instead of goat cheese. The balsamic vinaigrette is a powerful flavor, so it can balance out any cheese you want to try in there. This delicious salad is perfect for a healthy lunch. It's packed with flavor and nutrients. It'll also help keep you satisfied, since it's packed with fiber.

Spinach salad is a great way to pack lots of fiber (and even some protein) into a lunch. This salad is topped with goat cheese, pears and walnuts. Dress the salad right before serving with a flavorful balsamic vinaigrette.
Ingredients
6 cups packed spinach
2 ounces goat cheese
2 medium pears
2 Tbsp chopped walnuts
Balsamic Dressing:
1/4 cup balsamic vinegar
2 Tbsp oil
2 Tbsp water
1 tsp garlic, minced
1 tsp Dijon mustard
Salt & pepper to taste
Instructions
Place the spinach (washed and sorted) in a large bowl,
Tear or cut the goat cheese into chunks and add to the spinach.
Cut the pears into chunks and add to the spinach.
Mix together the dressing ingredients in a small bowl or jar.
Dress the salad.
Top with the walnuts and serve immediately.
Preparation time: 10 minute(s)
Cooking time:
Diet type: Vegetarian
Diet tags: Gluten free, Raw
Number of servings (yield): 4
Culinary tradition: USA (General)
Calories: 233
Fat: 13
Protein: 10
Entire recipe makes 4 servings
Serving size is about 2 cups.
Each serving = 8 Smart Points/6 Points
PER SERVING: 233 calories; 9.3g fat; 3.3g saturated fat; 15g carbohydrates; 7.1g sugar; 10g protein; 7g fiber