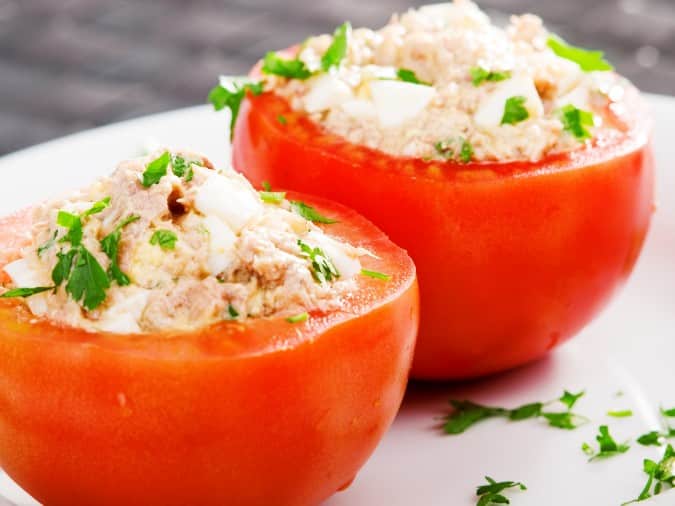 I think that everybody has those favorite easy meals. The ones that you gravitate to when you're home by yourself for the night. For my husband, one of those meals is a tuna salad sandwich. I thought I'd try and make a slightly more elegant version of a tuna salad sandwich with these tomatoes. It works great. The larger tomatoes, like beefsteak tomatoes, have lots of seeds and pulp on the inside that are easy to scoop out. Once the insides are removed, you can use it as a little bowl for just about anything. In my case, that was a rather delicious tuna salad. I lightened it up a bit by using fat free mayonnaise and non fat Greek yogurt, but didn't sacrifice anything in the flavor. Be sure to use white or light tuna canned in water and then drain it before flaking it into the salad. I added the hardboiled egg because I had a couple on hand, but I've also tried it without, and it's just as tasty. It's a great way to really make a classic favorite a little more sophisticated. A keeper in our house!
Tuna Salad Stuffed Tomatoes
Give this classic favorite an elegant twist by serving the tuna salad in a tomato. It's easy and just looks beautiful. It's light, packed with protein and delicious.
Ingredients
20

oz

tuna

canned in water

1/4

cup

non fat Greek yogurt

plain

1/4

cup

fat free mayonnaise

3

stalks

celery

chopped

1

hardboiled egg

chopped

1/2

small

red onion

diced

2

Tbsp

fresh parsley

minced

1

Tbsp

sweet pickle relish

1

Tbsp

Dijon mustard

salt & pepper

to taste

6

large

tomatoes

(i.e. beefsteak)
Instructions
Drain and rinse the tuna.

Combine the tuna, yogurt, mayonnaise, celery, onion, parsley, relish, mustard, salt and pepper in a large bowl.

Mix until well combined.

Refrigerate while preparing the tomatoes.

Slice the tops off the tomatoes and remove the seeds and core to form a "bowl".

Fill each tomato with the tuna mixture.

Serve immediately or refrigerate until serving.
Entire recipe makes 6 servings
Serving size is about 1 tomato with 1/2 cup tuna salad
Each serving = 4 Smart Points/4 Points
PER SERVING: 167 calories; 4g fat; 1g saturated fat; 9g carbohydrates; 6g sugar; 22g protein; 2g fiber