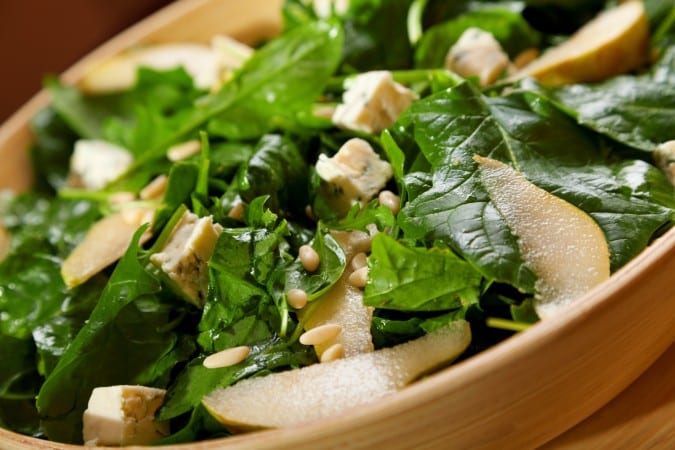 I am someone who isn't a big fan of blue cheese. I can handle it if there isn't too much of it and it isn't too strong. But I thought I'd give this salad a try, and figured I could always pick the cheese out if I needed to. Turns out, I didn't need to. I was surprised that the strong and sharp flavor of the blue cheese worked so well with the balsamic vinaigrette and the sweet pears. It turned out to be a delicious salad. While the recipe calls for fresh pears, canned pears (canned in juice, then drained), could be chopped and added just as easily. Dress the salad and sprinkle on the blue cheese just before serving, or the cheese can overpower the flavor of the dressing and the pears. The tender and mild baby lettuce leaves were perfect to balance out the rest of the flavors. However, if you're someone who doesn't care for blue cheese, or can't have it, you can leave it out, or substitute a feta (or similar cheese) for it.
Tossed Salad with Pears
A simple and delicious side salad made of baby lettuce leaves and dressed with a maple balsamic vinaigrette. The sweet pears and sharp blue cheese add delicious depth to the flavor of the salad. It comes together in just a few minutes, and is delicious every time.
Ingredients
6

cups

mixed baby lettuce & spinach leaves

2

medium

pears

sliced

1/4

cup

blue cheese

crumbled or chopped

4

Tbsp

balsamic vinegar

4

tsp

maple syrup

salt

to taste

2

Tbsp

olive oil

1

Tbsp

pine nuts

optional
Instructions
In a small bowl or canning jar, combine the vinegar, syrup, salt and olive oil. Mix well.

In a large bowl, combine the lettuce and pears.

Drizzle the dressing onto the salad and toss to coat.

Sprinkle on the blue cheese and pine nuts (if using).

Serve immediately.
Entire recipe makes 4 servings
Serving size is about 1 2/3 cups
Each serving = 4 Smart Points/4 Points
PER SERVING: 149 calories; 9.7g fat; 2.6g saturated fat; 15g carbohydrates; 7g sugar; 3.4g protein; 3.6g fiber