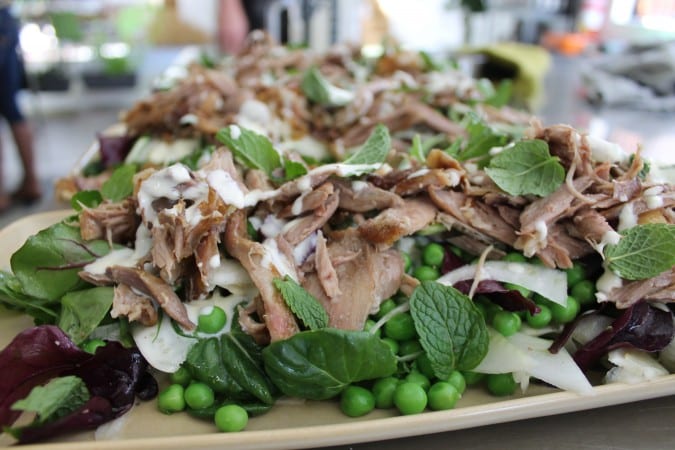 Who doesn't love a beautiful salad? Salads are a great meal. They are light and refreshing and since spring is in full swing, it's the perfect meal to feel like you're taking full advantage of the warm weather. This salad is delicious. The mixed baby greens provide a delicious base for this salad. Add in frozen or fresh green peas, some onion and a little mint and you have a salad packed with flavor and nutrients. With plenty of fiber, as well as iron, baby greens are a great way to feel full for much longer. I decided to give this salad a refreshing twist with the dressing as well. Cilantro and lime go together so well that they make a perfect dressing. I put everything in the blender to make it smooth and easy. If you're one of those people that doesn't like cilantro, you can omit the cilantro and olive oil, and use half an avocado instead. The flavor will definitely be different, but just as delicious. For me, this is a great way to make something new and fresh with leftovers. Leftover pork (roast or chops) shredded work perfectly for this.
Pulled Pork Salad
A delicious salad topped with tender pulled pork. Dressed with a refreshing and low fat cilantro lime dressing made fresh with Greek yogurt and garnish with fresh mint leaves, this salad is beautiful and healthy.
Ingredients
Cilantro Lime Dressing
1/2

cup

cilantro leaves

1/2

cup

plain, nonfat Greek yogurt

2

Tbsp

lime juice

1

clove

garlic

2

Tbsp

olive oil

1 1/2

tsp

white vinegar

Salt to taste
Salad
6

cups

baby salad greens

3

cups

fresh or frozen green peas

thawed if frozen

1

medium

white onion

thinly sliced

3

cups

shredded pork

cooked

mint leaves

for garnish
Instructions
In a blender or food processor, combine the ingredients for the dressing. Blend until smooth.

Combine the greens, peas and onion in a large bowl.

Toss to combine.

Top with the pork and drizzle the dressing over the top.

Garnish with mint leaves and serve immediately.
Entire recipe makes 6 servings
Serving size is about 2 cups
Each serving = 7 Smart Points/5 Points
PER SERVING: 215 calories; 10g fat; 3g saturated fat; 16g carbohydrates; 7g sugar; 15g protein; 5g fiber