No party is really complete without a lot of delicious food. It's even better when that food is healthy and food that you can eat while keeping to your smart points! These are 15 delicious, and classic, Super Bowl recipes. This year is the 50th Super Bowl, so it's a big party and it wouldn't be complete without some buffalo chicken wings, nachos or a delicious veggie platter with Roasted Red Pepper & Eggplant dip. With these recipes, you can (and your family and guests) can enjoy classic party food that's Weight Watcher friendly.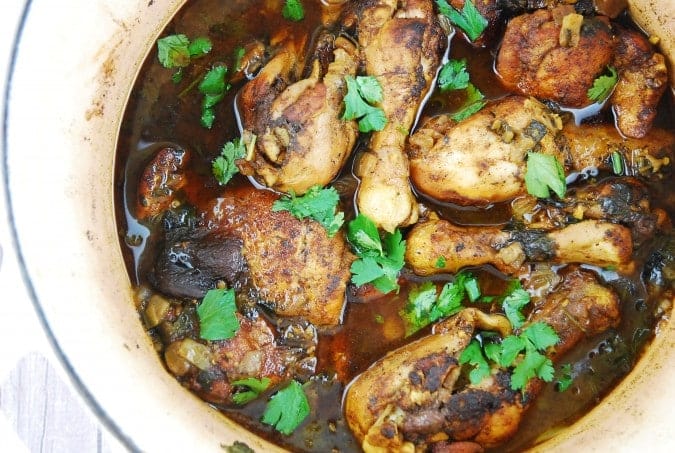 One great thing about having my in-laws visit, is that I always pickup a few delicious Middle Eastern style recipes that taste like I've spent hours cooking them, but are actually quite simple. This Moroccan Apricot Chicken Recipe is just that. The chicken is fall-off-the-bone tender and is unbelievably moist and juicy. It's rubbed in a combination of spices, seared, and then braised to perfection in the most delicious sauce. And it's all done in one pot (you know I love those one pot meals)! This chicken turns out perfect EVERY time I cook it, and it's become a staple for dinner parties or big family dinners. Serve over rice or couscous, along with some roasted veggies or salad for a complete meal. Enjoy!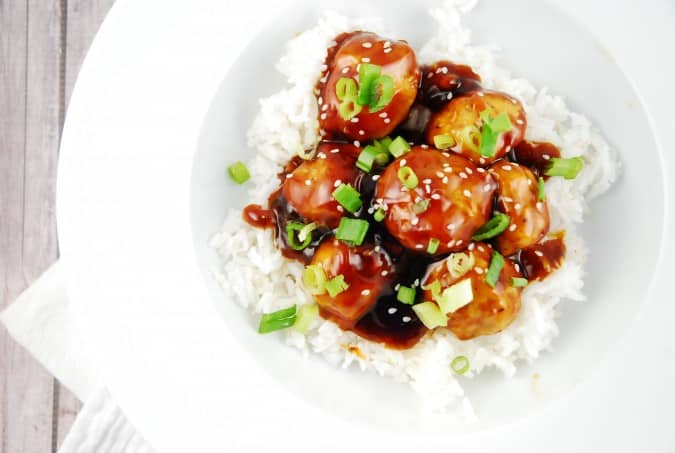 I'm going to cut right to the chase here…this Teriyaki Meatball Bowl was amazing! My kids loved it, as did my husband and I. I used ground chicken for the meatballs, but ground pork or turkey would work well too. Baking the meatballs also made for an easier, more hands off cooking process, and that homemade Teriyaki sauce is beyond delicious — hitting all the right flavor notes, sweet, tangy, and salty. SO GOOD! If you want to kick up the heat a bit, feel free to add in some red pepper flakes. I normally use brown rice anytime I make rice, but my son has been begging for white rice, so I decided to treat him. The brown rice would definitely add some more fiber, so that's what I'd recommend if you are trying to eat healthy. Definitely add these Teriyaki Meatball Bowls to your menu this week…you won't be sorry!